Product Information
Water Jet Cutting is a process of machining utilising water & abrasives that are pressurised to create a 'beam' of fluid that will cut through almost any material. The water is pressurised at up to 4000 bar (60,000 psi) and then forced through a directional nozzle. Abrasives within the solution ensure that the cut is swift and smooth with minimal edge burring and no material deformation. We can use this process to cut any material from paper, rubber, foam right through to graphite, marble & ceramics.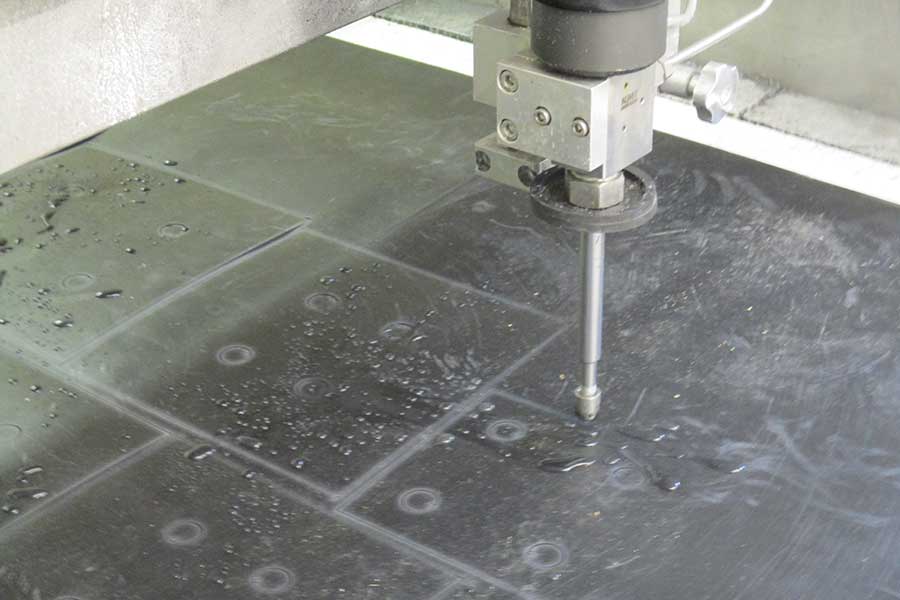 Why Water Jet Cutting?
This technique has many benefits over traditional cutting methods. Here are the key benefits:
No cutting tools required
No material discolouration
No heat distortion or discolouration
No product burring
Suitable for polished surfaces
Cuts virtually any sheet material
3m x 1.5m cutting area
Accuracy to 0.1mm
Suitable for material up to 100mm thick
Ideal for production of prototypes
No second operation finishing required
Suitable for long or short production runs
Tight radii cuts achieved accurately & reliably
Suitable for complex 2D or even 3D shapes
Cost savings achieved through nesting of same or different components
Die Cutting
GP Products are high quality manufacturers of cut components in all non-metallic materials. Located in Littlehampton, West Sussex, our modern production facility is equipped with CNC cutting machinery and equipment that ensures cost effective solutions for any users of Die Cut Shapes. We manufacture cut parts from a wide range of stock materials for a multitude of applications.
Our investment in 'state of the art' equipment (from rapid cutting auto presses to 2mtr x 900mm bed cutting presses) ensures that you will always be supplied with first class products at economical prices.
Our technical sales team will be pleased to assist whether you require a few prototypes or millions of components each year.
We carry large stocks of raw materials to ensure that production deadlines are met and Just-In-Time delivery of your requirements can be accommodated. Click here to check our regular stock materials; we regularly manufacture components from this impressive range.